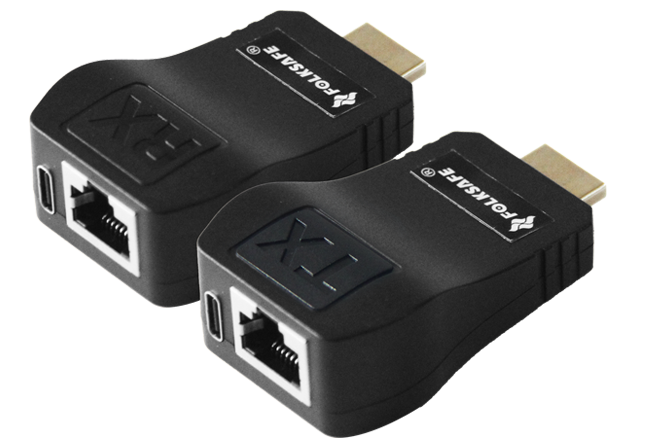 Model: FS-HD2000E
HD 1080P SIGNAL EXTENDER
---
Transmit or receive HDMl signal over single standard Cat5e/6
FS-HD2000E consists of a transmitter unit and a receiver unit
HD Video reaches 50m (over Cat5e)/ 60m (over Cat6 or above) (1080p@60Hz)
Support HDMI 1.3 and HDCP1.2
Power supply 5VDC/1A USB-A to Type.C power cable included
Small size,easy and convenient to use, plug & play, no need to configure
Overview
The FS-HD2000E is a HDMl extender which adopts new HDMl extending technology. The product consists of a transmitter unit and a receiver unit and should be used in pairs.
With the application of this HDMl extender, HDMl signal could be extended up to 50m over single cost-effective Cat5e and up to 60m over Cat6 or above at higher standard. Transmission distance up to 50m (over Cat5e)/ 60m (over Cat6 or above) is a perfect solution for family application as well as CCTV monitoring.
The FS-HD2000E extender is also a complete solution to solve the image mosaic, color distortion, transmission failure and other problems when long distance HDMl signal is transmitted. The product is widely applied to situations such as Home Theater, Exhibition, Multi-media classroom, etc.
Quick Setup Guide:
Step 1: Begin with all input/output devices turned off and power cables are removed.
Step 2: Directly connect the male end to video source, Use a Cat5e/6 cable: connect one end to RJ 45 connector of FS-HD2000E-TX, the other end to RJ45 connector of FS-HD2000E-RX.
Step 3: connect the male end to display device.
Step 4: Make sure the connections mentioned above are properly finished. Then connect FS-HD2000E-TX and FS-HD2000E-RX to USB-Type.C DC+5V power supply according to type.C interface.
When the display device works with good image, then the whole connection is done successfully.
Note:

1. The wiring must be away from any equipment with electromagnetic wave such as mobile phone, microwave, radio equipment,fluorescent lap, power lines, etc.
2. This device is not network equipment, do not connect with network to avoid damage.
3. Under normal circumstances, the HD2000E-RX can be powered from the HDMl interface. If the monitor's HDMl interface supply current is too small to make the HD2000E-RX start up, the monitor will not display images. At this time, it is necessary to plug in the USB-A to Type.C cable to obtain power from the external USB-A interface. if there is no external USB-A interface in the monitor, an external 5v USB power adapter is required for power supply.

How to make a network cable

To create a network cable, you will first need the equipment listed below.
1)Cat5e, Cat6, or Cat7 cable
2)RJ-45 connectors
3)Crimping tool
4)Wire stripper or Knife

The wire sequence of RJ45 connector must comply with international standard of EIA/TIA 568A or EIA/TIA 568B.
1)We recommend stripping at least half an inch of the cable to expose the inner wires.
2)Separate the wires within the cable after the network cable jacket has been removed so that they can be put into the RJ-45 connector.
3)The CAT5 twisted-pair cable consists of four twisted wires, each color coded; 8 wires must be correctly lined as the standards of EIA/TIA 568A or EIA/TIA 568B.
4)Cut thread residue and leave 1.5cm wire exposed outside the insulating layer and ensure 8 wires are straighten and neat.
5)Place the cable into the RJ-45 connector and then use the crimping tool to attach the connector.
6)Repeat above steps for the other end of the cable; the wire sequence of both ends of the cable is suggested to be identical.
7)Make sure to test the cables before installing them once both ends of the cable have been completed.
Technical Specifications
| | |
| --- | --- |
| Product Name | HDMI Extender |
| Model | FS-HD2000E |
| Version | HDMI1.3 HDCP1.2 |
| Resolution | 720p@50/60Hz, 1080i@50/60Hz, 1080p@60Hz |
| Max Transmission | Transmission distance max up to 50m over Cat5e and 60m over Cat 6 or above |
| Power Supply | DC5V/1A-Type.C |
| Power Consumption | TX: ≤1.5W RX: ≤1.5W |
| ESD Protection | Electronics Touch Discharge: ±2KV Air Discharge: ±4KV Standard: IEC61000-4-2 |
| Operating Temperature | 0℃ ~ 60℃ |
| Humidity | 95% |
| Dimension | 63.5*36.8*22mm |
Applications
Trouble shooting
• Remove possible faults with following instructions.
• Check if devices installed in proper way instructed by the supplier.
• Check if HDMl cable well connected and line sequence at sending & receiving unit in correspondence
• Check if actual transmission distance exceeds Max. distance permitted under this HDMl format.
• Check if FS-HD2000E-TX and FS-HD2000E-RX with normal input DC+5V Type.C power supply.
• Replace the defective one with a proper unit, and check if end devices ( DVD, Display etc,) is damaged.
• Contact the supplier if faults can't be removed after operations mentioned above.
• Check if the resolution of the video source output exceeds the maximum resolution supported by the product, and please check if the resolution of the monitor is consistent with the maximum supported resolution of the product.
After-sales Service
For breakdown caused by product quality, we guarantee products return within 15 days, exchange within 30 days, free warranty within 1 year. Guarantee period counts from the date of purchasing.
• Damages caused by man-made factors, such as application or storage under improper working environment or not in accordance with user manual.
• Disassembling, repairing by user or testing, maintaining by maintenance point not designated by FOLKSAFE.
• Damage caused by force majeure factors such as accident natural disasters (fires, lightning strike, earthquake) etc.
• Other damages caused by improper operation and application.