At the beginning of 2020, a pneumonia caused by novel Coronavirus spread all over the country,"Pandemic Prevention" has become an indispensable part of everyone's daily life. Under this circumstance, soaring commodity prices and rising labor, production and management costs would follow.Facing the increasingly severe situation, Folksafe responded actively and flexibly. On the one hand, Folksafe quickly established COVID-19 response team to carry out related work in COVID-19 publicity, prevention and emergency.On the other hand, internal system adjustments were made to deal with the rising costs of various aspects of the company caused by COVID-19, among them, the replacement and upgrading of ERP system was carried out. Combine modern information technology with scientific management methods and enterprise system construction to improve the operation speed and response speed of the whole production, supply and sales of the company; To realize accurate delivery of procurement and production plans;Reduce parts inventory, compress intermediate WIP inventory; To realize the transformation from extensive to fine management, so as to control and reduce the overall cost.
On the morning of November 20, 2020, with more than three months of careful preparation and cooperation of all departments, Shenzhen Folksafe Technology Co., Ltd.'s ERP system replacement and upgrade project launch meeting was successfully held in the conference room on the third floor of Longhua Headquarters Base. Shu Wengui, Chairman and General Manager of the company, Assistant of General Manager and Head of Longhua Headquarters Base, Head of Pingshan Production Base and Deputy General Manager, Representatives from finance, administration, IT, engineering, manufacturing, procurement, PMC and other departments attended the meeting.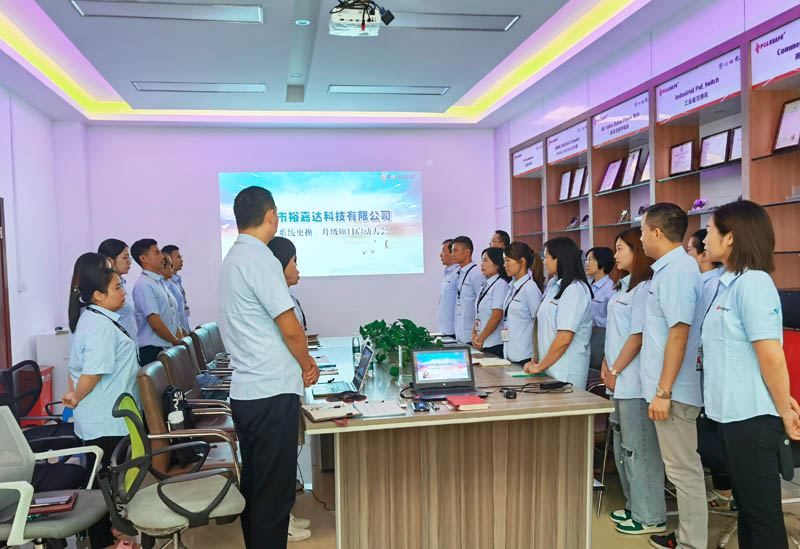 At the meeting, Mr. Shu Wengui, the chairman of the board, pointed out that ERP management system is a key project for the scale development of the company, and all the work of ERP information management system should be put into place as soon as possible. All departments should fully support the construction of ERP management system, and make an ERP system in line with the actual situation of the company.
The successful convening of this meeting, on the one hand, marked the official start of the company's ERP project replacement and upgrade work, and on the other hand, it also indicated that Folksafe has successfully broken through in the tight encirclement of COVID-19 and is making steady progress towards the company's strategic goals. 2020 is a special year, under COVID-19, Folksafe and many companies suffered a lot. However, under the leadership of Mr. Shu and leaders of all departments, we don't fear the COVID-19 , working together and scientifically preventing the COVID-19, while ensuring the safety of employees, Folksafe adheres to the principle of no layoffs and no pay cuts to escort the economic stability of employees during the special time.