A full year has passed since the outbreak of the COVID-19, remarkable achievements have been made in the concerted efforts ofthe Chinese people to fight the COVID-19. Folksafe responded positively and flexibly during this special period. On the one hand, Folksafe quickly established COVID-19 response team to carry out related work in COVID-19 publicity, prevention and emergency. On the other hand, a series of internal adjustments were made quickly to deal with various problems caused by the COVID-19 to the company. Affected by the COVID-19, the whole export trade industry was in a difficult situation in the first half of 2020, and Folksafe's performance has also declined severely. But in the second half of 2020, under the leadership of the chairman of the company, Mr. Shu Wengui, we face up to the difficulties, unite as one, work hard, and meet the needs of customers with practical actions, and help the company successfully overcome the "obstacle" of the "COVID-19", and effectively protect the multiple interests of customers, employees and the company.
The successful development of the enterprise is inseparable from the hard work of the employees, in this extraordinary year of 2020, a group of excellent employees who have worked tirelessly and spared no pains for the development of the company have emerged and played a positive role as a model in the company. Although the company's overall performance in 2020 has fallen significantly compared to previous years and the company is in relatively difficult conditions, in order to express the company's sincere gratitude to these excellent employees, the company still rewarded and commended them as usual. We also hope that everyone will work together in 2021 to create greater glories!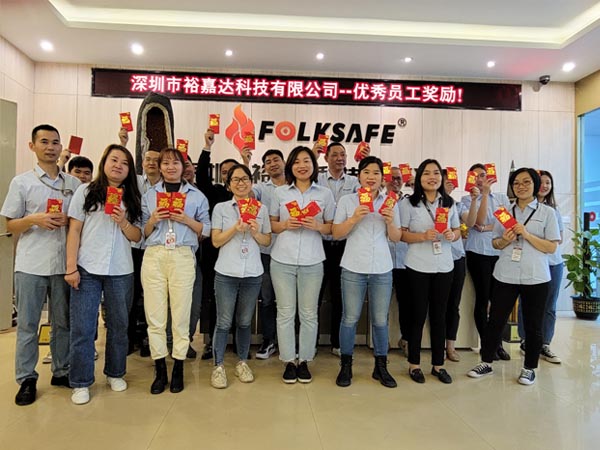 Love your job and strive to be a model
"The golden rat" is leaving the old year, "the golden bull"year is coming, and a New Year has come again. Folksafe is scheduled the Spring Festival holiday from February 6, 2021 to February 21, 2021. Although the company had a unified holiday on February 6, some employees still gave up the opportunity to reunite and rest with their families as soon as possible and stick to their jobs. They did not officially start their Spring Festival holiday until February 9. This selfless dedication spirit of sacrificing individual interests and achieving enterprise development fully reflects the persistence and dedication of Folksafe people in ordinary posts.
Here, the company is extremely grateful to these employees for their hard work. At the same time, the company calls on all employees to follow their example and learn from their dedication and selflessness. Hoping that they will continue to work hard, avoid arrogance or rashness, continue to play an exemplary role and make greater contributions to the company.